Posts Tagged 'Wilcox World Travel and Tours'
Looking to visit Hawaii? Of course there is always beautiful weather and perfect beaches, but a question you have to ask yourself is where should I stay? Here are some great hotel pools in Hawaii to help ease your decision.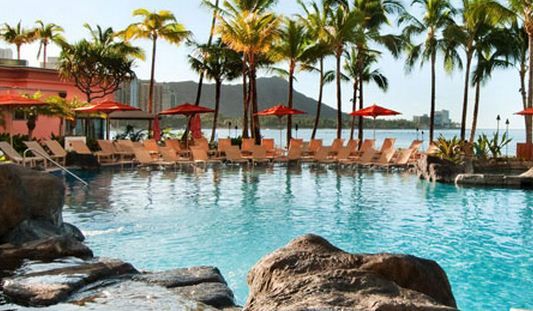 The beautiful pool area of the Sheraton Waikiki is made up of two main sections the Helumoa Playground and the Edge of Waiakiki. The Helumoa Playground is a relaxing spot for the whole family to enjoy. The main areas of the Playground are the two freshwater swimming pools where everyone can have fun and the two large whirlpools with magnificent sweeping views of the beach. If you are looking for a place for the kids to have fun, there is an interactive fountain area for them to play in. While the Playground is fun for all, the Edge of Waikiki is an infinity pool which is open to guests of ages 16 and older. It provides breathtaking views of what seems to be an endless stretch of the Waikiki beach. These two brilliant locations make up the spectacular pool area of the Sheraton Waikiki.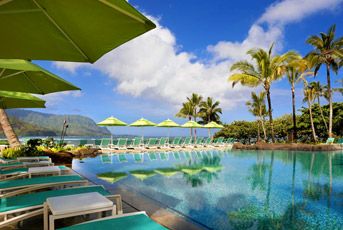 The St. Regis Princeville Resort offers one of the most breathtaking outdoor infinity pools stretching approximately 5,000 square feet overlooking the magnificent Hanalei Bay. The pool is edged with lava rock which adds to the beauty of the seemingly endless pool. If you do not feel like this is exactly what you are looking for there are adjacent whirlpools to take in the great bay and mountain views. The pool offers an oceanfront bar and poolside dining with its signature cocktails and perfect views of the bay and the Makana Mountain.

If you are looking for a hotel pool with all the credentials, then look no further than the Westin Maui Resort & Spa. This pool was voted the best pool on Maui and the second best pool in North America by Trip Advisor Readers. This 87,000 square foot pool area has virtually everything you could ask for. It contains five swimming pools, two waterslides, a swim through grotto with twin waterfalls, and even a hidden whirlpool. It does not stop at simply what the water has to offer but it also has amazing exotic wildlife and art collections scattered among the pool area.

If you are looking for a cool, fun, and different experience from most pools, the Sheraton Keauhou Bay Resort & Spa is the perfect place to go. The entire pool area includes inner, outer, and children's pools along with two whirlpool spas which are tucked under lava rock outcroppings. The children's pool has a shallow water beach area bordered by a playful and fun fountain area. This is a pool for all ages and if the pool is not what you are looking for then you can relax and sit poolside with some drinks from the Manta Ray Bar and Grill. However, the part of this pool which sets it apart from all of the others is that the upper and lower pools are connected by a river system which leads to a 200 foot long lava tube water slide.

The Royal Hawaiian shares a few of its features with the Sheraton Waikiki such as its Helumoa Keiki Pool and its Heluma Playground. The pool has a children's pool and also offers waterways, slides, and two ocean front Jacuzzis. The Heluma Playground offers two freshwater swimming pools and two large whirlpools with breathtaking views of the beach and a fountain area for the children. The pool that differentiates it from the Sheraton is the Royal Beach Tower Pool. It offers a quiet oasis which fronts the beautiful Waikiki Beach and the Pacific Ocean. Allow yourself to relax in the lounge chairs on the stone pool deck or in one of the cabanas and allow the attendants to take care of every need you have.
Call your Wilcox World Travel and Tours travel consultant today and enjoy the warmth and beauty that only comes from a Hawaiian Vacation!
Honeymoons
Honeymoons too often take a backseat to the arrangements and plans of the actual wedding, but you owe it to yourself to give honeymoon planning greater and more careful attention. After all, while the wedding is mainly for your family and friends, the once-in-a-lifetime honeymoon that follows is a private getaway for you and your new spouse to celebrate your marriage. Though you may spend a portion of your vacation relaxing and reflecting on this major life change, the honeymoon is most of all an opportunity to enjoy being a newlywed, spending quality time with your new spouse, and experiencing a romantic and exciting getaway.
Honeymooners have endless options. Following months of wedding planning, couples often retreat to a luxurious resort that caters to their every need, while others trek to an adventurous escape from their day-to-day lives. Whether a beach vacation, a safari or a ski trip, the honeymoon should reflect your joint personality and wishes.
Keep in mind that perfect honeymoons don't just happen, and planning requires thoughtfulness, patience, careful attention to details, and a lot of decision-making along the way. The more homework you do before leaving for your honeymoon, the more you will enjoy your special vacation.
Top Honeymoon Hotspots
Your honeymoon can be the most romantic trip you'll ever take, and it can also be a lot of fun. Look for a destination that offers everything you want. Remember that there is no "ideal" destination — the personality of you and your partner will determine where on the planet your honeymoon should be. However, the following locations traditionally are considered the greatest spots to honeymoon and top many newlyweds' travel wish-lists.
Hawaii – Hawaii remains the number one destination for honeymoons year after year because of its romantic sunsets, magnificent beaches, and luxurious hotels. Visitors to Hawaii can also conveniently hop from island to island to experience just about any climate and adventure under the sun, including kayaking, mountain climbing, surfing, scuba, and even hiking in a rainforest. View a Video on Hawaiian Honeymoons!
Mexico – From the Yucatan peninsula to the Pacific Coast, Mexico is all at once romantic, adventurous, and laidback. A collection of spectacular land- and seascapes larger than almost anywhere else in the world, reasonably priced attractions and an easy-to-reach location make a Mexico vacation hard to beat. Honeymooners can enjoy a wide variety of activities, including eco-tourism, water sports, horseback riding, diving, and touring ancient Mexican ruins.
The Caribbean– The islands of the Caribbean have long been favorites for honeymooners. While we mention a few below by name, your travel consultant can assist you with destination materials that provide a wealth of information for helping you choose the perfect spot.

Planning a Hassle-Free Honeymoon

If you and your fiancé are just beginning to think about your honeymoon plans, a good place to start is agreeing on a specific destination. A recommended way to do this is to sit down together and compile a list of your top dream vacations. Choosing a destination and an itinerary that really works for your personality is also key. It's easy to get overwhelmed at this stage, since you have so many possibilities, but you can narrow down the options by deciding if you'd prefer a tropical beach, big city, or a place known for adventure travel. Also consider if you want warm or cool weather, a distant land or someplace closer to home, a vibrant location with people to meet, or seclusion, where it will just be the two of you. Speak with your travel consultant about all of your honeymoon ideas, and consider including adventurous and unusual travel themes along with more popular options like mass market cruises and all-inclusive resorts.

Also remember that you may need to psychologically accommodate to your new status as a partner and a spouse, and with proper planning and smart travel choices, you can enhance your opportunity to bond without undue stress over logistics or other complications. Your travel consultant can always develop a customized honeymoon that provides not just a vacation experience, but a real journey for the two of you set in a locale that reflects your personalities and values.

Once you've decided where you want to go, your next step is to make a budget. Find out if you have any frequent flier miles or hotel discounts you can use towards your trip. Also think about putting all the wedding expenses on a single credit card that accumulates frequent flier miles for the honeymoon. The cost of your honeymoon will, of course, be the sum total of the accommodations, activities, transportation, meals, tips, souvenirs and other travel costs. Be candid with your travel consultant to make your honeymoon economically comfortable.

When considering your budget, know that all-inclusive resorts take care of most of your meals, athletic equipment, and tips. Some also include liquor and bar costs as well as resort-specific activities. These arrangements vary widely, however, with some including roundtrip airfare, so find out exactly what is and is not included in the price.

Also note that honeymoon packages offered by hotels, airlines, and wholesalers typically include special perks for newlyweds that you can't get with standard packages. Your travel consultant will know to ask your hotel if special honeymoon packages are available.

Once you have a budget, decide when to go and for how long. Figure out how many vacation days you have and how many you'll need before the wedding to take care of odds and ends at the last minute. Decide whether you want to leave immediately after your wedding, or wait a few days or weeks to give yourself more time to focus on the trip. If you don't have very many vacation days, you may want to take a "mini-moon" the weekend of the wedding and then a longer, second honeymoon on your first anniversary. It's usually a good idea to give yourself at least a day or two to continue the honeymoon after returning home, before you head back to work and settle into your everyday life.

Don't forget to research the travel documents you might need for your honeymoon as well. U.S. citizens need valid passports for all air and sea travel to and from Europe, Asia, and Australia. As of January 8, 2007, passports are also required for travel to or from Canada, Mexico, Central and South America, and the Caribbean. Your travel consultant will assist with all of the necessary documentation, including documentation of your recent name change!

Be diligent about keeping copies of all correspondence, confirmation numbers, and invoices given to you by your travel consultant. Double- and triple-check all the plans to be sure that your departure and return dates are correct. Inform everyone along the way that you're traveling on your honeymoon, so you don't miss out on complimentary perks. Stay organized by creating a folder or notebook where you can keep all this information.

One last bit of advice: Have realistic expectations throughout the course of planning and taking your honeymoon trip. While it's only natural for you to want your honeymoon to be perfect, bear in mind that travel is inherently an adventure. Approach your honeymoon with an open mind, and prepare to have plenty of laughs along the way.

There really are endless possibilities for honeymooners. Whether you decide to go on an exotic foreign expedition or visit a nearby luxurious resort, start planning early to make sure you're right where you want to be… and then Bon Voyage!

Contact Wilcox World Travel and Tours today to start planning your Honeymoon.
By: Sarah Kneisler and Funjet Vacations
Any vacation to Hawai'i is a special vacation due to the nature of the destination. It's rare that in such close proximity you're able to visit six different islands with six unique experiences. There are a few things that you can find across each island such as history, culture and natural beauty, however the most important similarity is the Aloha Spirit. This welcoming, friendly feel you're surrounded with lays the groundwork for building your vacation dream and creating memories that will last a lifetime.
From my experience travelling to the islands more than eight times in the last three years, I can share a few tips to make your Hawaiian vacation experience even better. You'll notice many hotels offer room categories with breakfast included, which is an upgrade everyone should take advantage of! Sheraton Maui Resort has an amazing breakfast which you'll need to fuel yourself for a day of exploring the island. Plus, when you select the Breakfast category with Funjet Vacations you're getting other amazing values included in the price such as 3rd night free and a room upgrade. Even though you may not plan to spend all of your time in your room, it's an experience like no other to wake up or go to bed in the evening and see the ocean from your lanai. Are you really experiencing Hawaii the way you dreamed of if you're booking a room without an ocean view?
There's no better time than now to book. With Funjet Vacations you'll find exclusive offers saving you money on room upgrades to enhance your experience, car rentals to get you around the island, a complimentary lei greeting and more! Funjet Vacations also offers a wide variety of activities on all of the islands including my favorite, Bike & Hike. You don't even need to do all of the research yourself — trust the expert advice of a travel agent for a truly unforgettable vacation experience. Contact Wilcox World Travel and Tours to help you find great values, save you time and ensure you have the vacation you dreamed of taking.
Sandals and Beaches Resorts
Re:                   Hurricane Irene Statement
Date:               August 29, 2011
Following the passage of Hurricane Irene through the Caribbean we are delighted to report that Sandals Grande Emerald Bay came out unscathed and is open and accepting guests.
Sandals Royal Bahamian and Beaches Turks & Caicos Resort Villages & Spa remain closed as we clear landscaping debris and prepare to welcome back guests. Sandals Royal Bahamian will accept guest arrivals beginning on Wednesday, September 28 and Beaches Turks & Caicos will accept guest arrivals beginning on Thursday, October 6. Prior to these dates, guests traveling to Sandals Royal Bahamian and Beaches Turks & Caicos from now until the resorts re-opening date will be relocated to another Sandals Resorts or Beaches Resorts location, pending availability.
Alternately, guests scheduled to travel to Sandals Royal Bahamian and Beaches Turks & Caicos may revise their bookings without penalty and will have their current rate honored for altered reservations for up to one year after their original travel dates (excluding black-out dates).   If guests cannot immediately re-schedule their travel, they will have the cost of their original stay credited toward a future booking to be used within one year of original travel dates (excluding black-out dates).
We encourage all guests to work with the airlines directly to take advantage of policies that may waive change fees for those who wish to keep the same trip dates and travel to another destination.  For relocated guests that would like to rebook other available resorts in Antigua, Jamaica, Bahamas or Saint Lucia, they may do so and we will absorb the air relocation fee up to $150.00 per ticket.  The safety and security of our guests remains the top priority and we look forward to welcoming guests back to the Bahamas and Turks & Caicos.
If you need assistance, please call Wilcox World Travel and Tours/American Express  @ 1-828-210-8197, email us @ freed@wilcoxtravel.com or visit Sandals Resorts to see why Sandals has been voted the top All-Inclusive Brand year after year.
A Business Travel Update from Wilcox World Travel and Tours,   1 West Pack Sq, Suite 1700,   Asheville NC   28801   828-254-0746
Airlines
More Airlines are Making More on Those Ancillary Fees
All those fees for services and amenities that used to be included in your airline ticket—baggage (although Southwest Airlines lets you check two bags free and your first checked bag is free with JetBlue Airways), seat assignments, meals, in-flight entertainment–are adding up. The number of airlines charging those fees increased from 23 to 47 last year, according to an annual study by Amadeus, a major global distribution system. Fee revenues were up 38 percent to $21.46 billion. And for a few airlines, ancillary fee revenue now generates nearly 30 percent of their revenue. Topping that list: vacation carrier Allegiant Air, 29 .2 percent; Spirit Airlines, 22.1 percent. (Source: Amadeus press release).
What Bothers Air Travelers Most? Fees and Discomfort
All those ancillary fees and lack of comfort are sore points with air travel consumers and it's why some people are traveling less, according to a Consumer Reports survey. Eight of ten major airlines got low grades on seat comfort and several others got low marks for cabin crew service, cleanliness and in-flight entertainment. Two exceptions: Southwest Airlines and JetBlue Airways. Southwest got top marks for check-in and cabin crew; JetBlue scored tops on seating comfort. US Airways scored lowest overall and got the worst marks for cabin crew service. Flyers were also unhappy about service fees—40 percent of those who say they're flying less blame fees. The fewer fees airlines charged, the happier passengers were with them—and, interestingly enough, both Southwest and JetBlue go easy on baggage fees. (Source: Consumer Reports press release).
More People Will Take to the Skies This Summer
The Air Transport Association of America is projecting that about 1.5 percent more people will fly this summer than did last year, to the tune of 2.24 million people in the air every day. The ATA predicts that 206.2 million passengers will fly between June and August. That is well below the pre-recessionary high of 217.6 million in the summer of 2007. (Source: ATA press release).
Airfares Rise in Fourth Quarter 2010
Average domestic airfares rose to $337 in the fourth quarter of 2010, up 5.2 percent from the average fare of $320 in the fourth quarter of 2009, according to the U.S. Department of Transportation. Newark-Liberty, NJ, had the highest average fare, $461, while Atlantic City, NJ, had the lowest, $156. Despite that increase, airlines are correct in saying that, long-term, fares are staying low. The DOT calculates that in 1995 dollars, the average airfare in the fourth quarter of 2010 was $236, compared to $288 in 1995 and $300 in 2000. Adjusting for inflation in 1995 dollars, fares in 2010 averaged $235, up 6.7 percent from 2009 but down 21.6 percent from the inflation-adjusted high of $300 in 2000. (Source: DOT press release).
Tarmac Delays Keep Decreasing
There is some good news for flyers. March was the fourth month out of the last six that the nation's airlines reported no tarmac delays of more than three hours, according to the Air Travel Consumer Report just released by the U.S. Department of Transportation (DOT).  A year ago, in March 2010, the carriers reported 25 tarmac delays longer than three hours.  Carriers also reported a decrease in the rate of canceled flights in March compared to a year earlier.  (Source: DOT press release).
Hotels
Hotel Occupancies, Rates Expected to Go Up
Increasing demand, lagging new construction and an economic recovery that should pick up for the second half of the year bodes well for hotels and means travelers will face slightly fuller hotels and modest price increases, according to consulting company PwC. According to Macroeconomic Advisors, the economic growth that slowed somewhat for the first part of year should gain traction in the second half of the year. That, combined with still-subdued hotel development, means U.S. hotel occupancy should average 59.8 percent this year; rates should increase 3.7 percent this year and 5.5 percent in 2012. (Source: PwC press release).
Some Markets See Major Occupancy Increases
Among the top 25 hotel markets in the U.S., five are seeing year-over-year hotel occupancy increases in the double digits. Houston is up 14.8 percent to 65.1 percent; Nashville is up 11.2 percent to 65.4 percent; Norfolk – Virginia Beach is up 10.8 percent to 59.2 percent; Orlando is up 10.8 percent to 76.4 percent and Minneapolis-St. Paul is up 10 percent to 64.1 percent, according to the hotel consulting company STR. (Source: STR press release).
Easter, World Events Cause Temporary Lull for Business Travel
The double-digit growth that business travel had seen earlier this year slowed in April, due primarily to the Easter holiday and world events. These included the earthquakes in Japan and New Zealand and simmering tensions in North Africa and the Middle East. But Pegasus Solutions, the world's biggest processor of hotel transactions, calls this just a temporary slowdown. "The fundamentals driving corporate travel recovery – overall economies, corporate earnings, business trips and meetings/conference travel – are improving and increasing, while pent-up consumer demand and slow room supply growth portend a better summer travel season than last year's," said Mike Kistner, CEO of Pegasus. (Source: Pegasus press release).
Car and Rail
Amtrak to Add More Free Wi-Fi to Trains This Year
Amtrak plans to expand its on-board free Wi-Fi this year. It plans to install AmtrakConnect on more trains in the Northeast Corridor and on more West Coast trains. It has also completed building a dedicated wireless network that improves connectivity and delivers a high-speed signal to trains traveling through New York City tunnels. Amtrak also plans on upgrading its system to 4G to increase available bandwidth. Free Wi-Fi is already available on Acela Express trains between Washington, D.C. and Boston and on Amtrak Cascades trains. (Source: Amtrak press release).
Spotlight on:  Sleeping With Your Smartphone
Smartphones and similar handhelds have become so integral to their users' lives that more than 60 percent of mobile workers sleep with their smartphone, according to a the quarterly Mobile Workforce Report produced by iPass, which provides enterprise mobility services. Ninety-one percent of mobile workers check their smartphones even during off hours, 30 percent check them every six to 12 minutes, even when they're technically off duty. All of this takes its toll.
The average mobile worker works 240 hours a year longer than the general population
Thirty-eight percent of mobile workers wake up at night to check their smartphone
Thirty-five percent check email in the morning before getting dressed or eating breakfast.
Twenty-nine percent report that their mobile technology use causes friction with their spouse or partner.
(Source: iPass press release).
Wilcox World Travel and Tours is committed to providing you with useful information on the latest developments in the travel industry. The above information has been compiled from a variety of sources and is updated monthly.
A Business Travel Update from Wilcox World Travel and Tours,   1 West Pack Sq, Suite 1700,   Asheville NC   28801   828-254-0746
Airlines
State Department Issues Summer Long Foreign Travel Alert
The State Department's worldwide travel alert issued after U.S. Special Forces units killed Osama bin Laden advises Americans to exercise caution if they're in areas more prone to anti-American violence. It suggests that travelers overseas enroll in the State Department's Smart Traveler Enrollment Program (STEP) for travel updates, information and security issues. It's important to note that support for Osama bin Laden in the Arab world has fallen sharply, according to two highly respected sources, the ABC News Polling Unit and the Pew Research Center, (Source, State Department press release, ABCNews.com)
Issues New DOT Rules Give Passengers a Break
New Department of Transportation rules have brought sweeping changes to the way airlines deal with you. Airlines now must disclose hidden fees, pay back your baggage fee if they lose your bags and pay you more for bumping you—as much as doubling the amount in some instances. Airlines now must let you cancel reservations at no charge within 24 hours of making that reservation as long as it is at least seven days before departure. (Some airlines already do this). The new rule also expands the ban on lengthy tarmac delays. What it doesn't do, however, is to require airlines to display full fee information on any platform selling airline fees. Right now, it only requires airlines to provide all fee information on their own websites, but not to travel agencies (online or brick and mortar) or travel management companies (TMCs). That makes it tough to do comparison shopping when you're trying to find the least expensive flight. (Source: DOT press release, Global Business Travel Association press releases).
Airlines Add Employees
For the third month in a row, passenger airline employees increased, by one tenth of a percent. Three network airlines cut employees–American Airlines, Alaska Airlines and United Airlines, according to the Department of Transportation. Low-cost carriers Virgin America, Spirit Airlines, Allegiant Air, JetBlue Airways, AirTran Airways and Southwest Airlines increased employees. Low-cost carrier Frontier Airlines reported a 3.1 percent decrease in employees. (Source: DOT press release).
Air Revenues Are Up 13 Percent
Although airlines are battling high fuel costs, the Air Transport Association reported that passenger revenue rose 13 percent in March 2011 compared to the same month in 2010, marking the 15th consecutive month of revenue growth. U.S. domestic revenue grew 12.5 percent, fueled in large part by an 11.5 percent yield increase.Trans-Atlantic revenue grew 7 percent from a year ago, but represented the smallest increase of the four major regions tracked by ATA, largely due to a softer pricing environment. Trans-Pacific revenue rose by 14 percent despite a 10 percentage point drop in load factor.  Routes to and within the Pacific region posted the largest yield increase (16 percent) of any region. (Source: ATA press release).
Airlines Increase Capacity to Meet Demand
Planes are flying full, airline revenues are up, so carriers are adding capacity, according to the OAG Frequency Capacity Trend Statistics. Airlines are adding 17.9 million seats, a 6 percent increase, a percentage point ahead of the 5 percent monthly capacity increase so far this year. The Asia Pacific and Middle East are showing the most growth, intra European routes are next. China is now the second largest domestic market, second only to the United States. (Source: OAG press release).
Hotels
Summer Prospects Are Looking Up For U.S. Hotels
U.S. hotels should see occupancy and rates increase modestly this summer, according to STR, a major hotel consulting company. STR predicts that occupancies will increase 1.7 percent to 66.7 percent and average daily rates will increase 4.1 percent to $103.01. Demand should recover in earnest this summer, according to STR, but rising fuel costs could dampen that. (Source: STR press release).
U.S Hotel Occupancies Up 6.1 Percent in Spring
The U.S. hotel industry is building momentum. March occupancy and rate numbers were up 6.1 percent and 3.8 percent respectively, according to STR. That's a sign of an ongoing recovery, according to the hospitality consulting company. Major markets showing rate increases are San Francisco, up 12 percent, Oahu, up 9 concerns that there is enhanced potential for anti-American violence in the wake of bin Laden's death are behind the State Department's worldwide travel alert. percent, New Orleans, up 8.9 percent and Chicago, up 7 percent. (Source: STR).
Car Rental
Hertz Repositions Fun Cars and Green Collection
Hertz has renamed two of its collections. The Fun Collection is now the Adrenaline Collection, which features muscle cars such as the Camaro SS, the Mustang GT Premium and the Challenger RT. All will come with free Sirius XM radio. The Green Collection is now the Green Travel Collection and is made up entirely of hybrid, plug-in hybrid electric vehicles (PHEVs) and electric vehicles (EVs). By the end of the year, Hertz expects to have hundreds of EVs on the road. (Source: Hertz press release).
Business travel hit a post-recession high at the end of the last quarter of 2010, according to the Global Business Travel Association (GBTA). The GBTA Business Travel Index (BTI) is at its highest level since the recession began in 2008. This is good news for the economy, since GBTA Foundation research shows that increasing business travel spending is a leading indicator of future job growth. Stronger economic growth and the expectation of slightly higher prices drove the BTI higher.
* The GBTA revised the index upward from 108 for Q4 2010 to 112, its highest since Q3 2008
* That represent $1.9 billion more in business travel spending than originally forecast
* For the year, total U.S. spending on business travel grew 3.2 percent
* Business travel spending for 2011 is now expected to be up 6.9 percent for the year, up from the original 5 percent forecast
* Travel costs are starting to increase, going up 2.5 percent in 2010 and projected to increase by 2 to 4 percent this year.
Source: GBTA press release.
Wilcox World Travel and Tours is committed to providing you with useful information on the latest developments in the travel industry. The above information has been compiled from a variety of sources and is updated monthly.
A Business Travel Update from Wilcox World Travel and Tours,   1 West Pack Sq, Suite 1700,   Asheville NC   28801   828-254-0746
Airlines
U.S. Airline Revenues Are Up—But Oil Costs Hurt
Passenger revenues for U.S. carriers were up 13 percent in February, the latest figures available from the Air Transport Association, marking the 14th consecutive month of revenue growth for a core group of U.S. airlines. Miles flown by paying passengers were up 2.1 percent, while the average price to fly one mile rose 10.8 percent. International markets remained especially strong, with passenger revenue growing 17 percent, led by a 27 percent increase in Pacific revenue. Domestic revenue grew 11.5 percent, fueled in large part by a 10.5 percent increase in yield. Figures are based on data from seven major U.S. carriers and 20 regional carriers. (Source: ATA press release).
Air Traffic is Up, But Still Below Pre-Recession Levels
Air traffic was up 2.9 percent in December 2010 over December 2009 according to the latest figures from the Department of Transportation. The December 2010 passenger total was 2.1 percent above that of two years ago in December 2008 but still remained 3.6 percent below the pre-recession level of 60.8 million in December 2007. The number of scheduled domestic and international passengers on U.S. airlines increased 2.4 percent in 2010 over 2009 to 720.4 million. The number of passengers declined 3.1 percent from the full year 2008 to the full year 2010. U.S. airlines carried 1.9 percent more domestic passengers and 5.9 percent more international passengers in the full year 2010 than in 2009. In December, Southwest Airlines carried more total system and domestic passengers than any other U.S. airline. (Source: Department of Transportation).
Triple Digit Oil Prices Could Crimp Business Travel Growth—But Not Stop It
Short-term oil price spikes might slow business travel growth but shouldn't stop it, according to a study by the Global Business Travel Foundation. It found that because business travel pays off, companies will continue to invest in it even if rising fuel costs make travel more expensive. Even if oil hits $200 per barrel, business travel and the number of trips taken would continue—although high oil prices would hurt the rate of projected business travel growth over time. (Source: GBTA press release).
No Tarmac Delays of Longer Than Three Hours In February
No airline passengers sat on the tarmac for more than three hours in February, down from 60 flights in February 2010, according to the U.S. Department of Transportation (DOT). February was the tenth full month of data since a new rule prohibiting carriers from keeping planes on the tarmac for more than three hours went into effect. Large parts of the country saw severe weather during February, and airlines cacneled 4.9 percent of their scheduled domestic flights, compared to 5.4 percent in February 2010 and 3.9 percent in January 2011. The number of canceled flights with tarmac delays of more than two hours increased only slightly, from 289 between May 2009 and February 2010 to 331 between May 2010 and February 2011. There were 19 canceled flights with tarmac delays of more than two hours in February 2011, down from 21 in February 2010. (Source: DOT).
United Continental Expands Wi-Fi Service to More Than 200 Aircraft
United Continental Holdings, Inc., is adding Wi-Fi service to more than 200 domestic Boeing 737 and 757. It's using LiveTV's Ka-band technology, which offers offer higher transmission speeds for more extensive onboard connection capabilities, including browsing content-rich websites, sending and receiving e-mails and downloading files. The airline will start offering the new service next year. Right now, United offers in-flight Wi-Fi on 14 aircraft. (Source: United Continental Holdings press release).
Hotels
Hotel Industry is Recovering, But Rates Stay Low
Hotel.com's Hotel Price Index found that global hotel rates rose two percent last year, but that attractive pricing remains. It found higher occupancy levels for major business centers like London, Paris, Singapore, and New York due to the return of business travel. Las Vegas also benefited, as convention business returned to the desert. International arrivals grew over 5% in 2010 and occupancy in luxury properties in the U.S. is running between ten and fifteen points higher than in the lower star categories. Vegas remains the country's favorite place to visit, followed by New York, Orlando, Chicago, and San Francisco. Top U.S. cities that saw significant year-over-year increases at five-star properties in 2010 were: Boston (21%), Chicago (20%), Miami (10%), San Francisco (22%), and Washington (16%). (Source: Hotels.com press release).
Outlook for U.S. Hotel Industry Continues to Improve
PKF Hospitality Research (PKF-HR) said outlook for the U.S. lodging industry continues to improve, though at an uneven pace. PKF-HR forecasts that U.S. hotels in the main should achieve a 7.1 percent increase in room revenue in 2011. This is greater than the 5.6 percent room revenue growth rate projected by PKF-HR in December 2010. The improving economy isn't the only reason for improving demand. Sharp price discounts also help—PKF research found record declines throughout 2009 and early 2010. PKF's research shows the improving economy is helping the affluent most, which means upper-tier hotels are seeing increased occupancies. They should be able to raise their prices sooner than mid-market and lower-tier hotels.
Auto Europe Warns that Japan's Disaster Could Hurt Rental Car Inventory
Auto Europe is advising rental car customers, especially those in Europe, to lock in their rentals early because of the impact of the Japanese tsunami and earthquake on Japanese auto parts and technology providers. Because of an anticipated bottleneck, some European manufacturers are already talking about reducing hours, which could affect rental car companies ability to "fleet up," according to Eric Ledroux, president of Auto Europe. (Source: Auto Europe press release).
Spotlight on:  Business Travel Monitor
The American Express Business Travel Monitor shows that hotel rates are holding steady but that increasing demand and higher fuel prices mean that there's probably no end in sight for rising airfares.
· Domestic and international fares were up seven percent in 2010.
· Domestic hotel rates stayed flat, while international rates bumped up just one percent in 2010.
· The bottom line: companies have to carefully calibrate their travel spending, paying close attention to the economy and their business needs.
Source: American Express press release.
Wilcox World Travel and Tours is committed to providing you with useful information on the latest developments in the travel industry. The above information has been compiled from a variety of sources and is updated monthly.
A Business Travel Update from Wilcox World Travel and Tours,   1 West Pack Sq, Suite 1700,   Asheville NC   28801   828-254-0746
Airlines
Air Traffic Is Up—But So Are Oil Prices
Air traffic continues to increase, says the International Air Transport Association, with passenger traffic up 8.2 percent in January, better than December, when severe weather in Europe and North America slowed the recovery. January's air travel volumes were 18 percent higher compared to the low point reached in early 2009 and some 6 percent above the pre-recession peak of early 2008. The problem with this otherwise rosy picture? Oil prices. The industry's current forecasts were based on $84 per barrel oil and that price is now up to more than $100, said Giovanni Bisignani, IATA's director general and CEO. A $1 increase in the price of oil means the industry has to recover $1.6 billion in additional costs. Bottom line? It's another challenging year for airlines. (Source: IATA press release).
Airlines Gingerly Test the Waters With Fare Increase
Airlines keep testing the waters with fare increases. Early last month, several carriers initiated fuel surcharges that ranged from $4 to $10, according to airfare comparison website FareCompare.com. Except for some peak travel "miscellaneous" surcharges for popular travel periods, U.S. consumers haven't seen domestic fuel surcharges since November 2008, according to Rick Seaney, FareCompare's CEO. And airlines continue to try hiking fares. Late last month legacy carriers tried a $20 fare hike but ultimately cut that in half when low-cost carriers countered with a $10 fare hike of just $10. (Source: FareCompare.com).
American Fined for Charging Bumped Passengers a Fee to Use Travel Vouchers
Read the fine print if you volunteer to give up your seat on an overbooked flight. The Federal Aviation Administration has fined American Airlines $90,000 for failing to disclose that vouchers given to passengers who voluntarily gave up their seats on oversold flights could be redeemed only after paying a ticketing fee of as much as $30. Airlines have to look for volunteers before involuntarily bumping passengers, when the Department of Transportation requires the airlines to pay travelers cash in most cases. Ray LaHood, US Transportation secretary, said that if you give up your seat, you deserve full compensation—and not find out later that they have to pay $30 to use it. (Source: DOT press release).
Major Carriers Tout Service into Tokyo's Haneda Airport
Carriers are adding flights to Tokyo's Haneda Airport, located near Tokyo's business center, even as they maintain service to the larger—and more distant—Narita. Delta Air Lines is now flying between Tokyo-Haneda and Detroit and Los Angeles. American Airlines has also begun flying nonstop between JFK and Haneda. The new service is a result of the Open Skies Agreement that the U.S. and Japan signed in October. U.S. carriers aren't the only airlines flying into the more conveniently located Haneda; British Airways launched its new route to Haneda in Japan on Feb. 19. (Source: American, British Airways, Delta press releases).
Low Cost Carriers Add Workers; Network Carriers Cut Them
Low-cost carriers reported an increase in fulltime employees in December, the latest figures available, while network carriers reported fewer, according to the Department of Transportation. The result was that the number of fulltime employees for passenger airlines increased .2 percent. It's a major turnaround for the industry, which saw employee numbers drop for the 28 months up until November 2010, when there was no change. (Source: DOT press release).
Hotels
Hotel Industry Appears to Start Recovery
If you've been enjoying low rates and easy availability at your favorite hotels, the market is beginning to tighten, but not by much. U.S. hotel occupancy and rates are starting to edge up. In year-over-year measurements, the industry's occupancy was up 5.8 percent to 47.7 percent. Average daily rates ended the month with a 2.8-percent increase to $96.64. Demand is strong and room rates are edging up slightly, with the higher end of the market outpacing moderately priced hotels, according to Smith Travel Research. The hotel research and consulting company expects this trend to continue over the next several months, (Source: STR press release).
Luxury Hotels Keep Their Customers Happiest
Value does not mean cheap when it comes to hotels. Even though economy guests say that price is the most important element in their choices, economy hotels received the lowest value scores (79.2) in the 2010 Market Metrix Hospitality Index released last month. Upscale hotels received the top scores for delivering value (83.5). Hotel loyalty programs also played a bigger role for guests in choosing a hotel than in 2009. (Source: Market Metrix press release).
Car and Rail
Amtrak to Add More Free Wi-Fi to Trains This Year
Amtrak plans to expand its on-board free Wi-Fi this year. It plans to install AmtrakConnect on more trains in the Northeast Corridor and on more West Coast trains. It has also completed building a dedicated wireless network that improves connectivity and delivers a high-speed signal to trains traveling through New York City tunnels. Amtrak also plans on upgrading its system to 4G to increase available bandwidth. Free Wi-Fi is already available on Acela Express trains between Washington, D.C. and Boston and on Amtrak Cascades trains. (Source: Amtrak press release).
 Spotlight on:  How Travel Helps Build Your Business
Hitting the road is good for your company's bottom line, according to an American Express and Global Business Travel Association study. The study found that companies overlook how travel can give them a competitive edge. Among its findings:
· Every dollar strategically spent on business travel delivers $20 in additional gross profit.
· To get that return requires spending an average of 4 percent more on travel—or about $70 per employee.
· Industries that could benefit from more business travel spending: banking, finance, retail, and pharmaceuticals.
Source: American Express Global Business Travel press release.
Wilcox World Travel and Tours is committed to providing you with useful information on the latest developments in the travel industry. The above information has been compiled from a variety of sources and is updated monthly.